Pet Health: A Complete Package of Benefits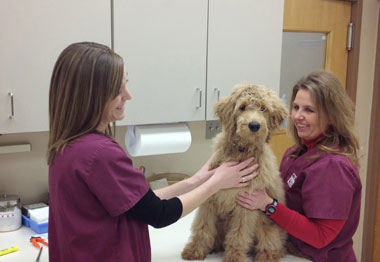 South Des Moines Veterinary Center strives to provide quality veterinary care and education. Proper diagnosis is critical to treating medical ailments, and you provide valuable insight into your pet's current health status. Our veterinarians and team spend as much time as necessary to gather a thorough history, which results in the best possible treatment for your pet. Our advanced veterinary capabilities ensure high quality and rapid results.
Our veterinarians offer a customized approach to your pet's wellness care by creating a comprehensive wellness plan specialized for your pet.
High quality medicine and diagnostic procedures coupled with routine preventive care is the main focus at South Des Moines Veterinary Center. In addition to providing comprehensive veterinary care, we also provide canine and feline dental care pain management, boarding, grooming, doggy day care, and advanced surgical services. Offsite emergency care is also available for night, weekend, and holiday hours.
In our ongoing efforts to supply you with the latest information on veterinary care, we have compiled additional resources for you including:
Together, we can achieve outstanding health care results for your pet. Please contact us if you have any questions or concerns. We enjoy hearing from you!