Meet Our Team
Dr. Melissa Beyer

Hello! I am Melissa Beyer. Veterinary medicine is my passion. My special interests in veterinary medicine are dermatology (skin) and soft tissue surgery. These may seem like two very different areas but they challenge me every day and make my job fun. I joined South Des Moines Veterinary Center in 2006 and became owner in 2014. I currently am an active member of the American Veterinary Medical Association, the American Animal Hospital Association, and the Iowa Veterinary Medical Association.
Away from SDMVC I enjoy playing with my 2 daughters, going to hockey games, keeping up on college football (I am a graduate of Iowa State University, but am an Iowa Hawkeye fan at heart), teaching kickboxing and running. We have a very active household!
Pictured with me is Ronin (he's the little guy in the picture). What Ronin lacks in size he makes up for in heart. Ronin has a disease that slowly caused him to lose his sight but he still loves to fetch his orange ball (we just have to make sure it bounces so he can hear it)! He's pretty amazing! Also seen in this picture is our newest addition, Dash. He is a Golden Retriever puppy. He loves giving kisses, and playing with his daycare buddies here at South Des Moines Veterinary Center. Our other 4-legged family member is our cat, Willie. Willie was adopted from the veterinary center. Willie is the biggest sweetheart and will do just about anything for a good chin rub!
Whether it's helping your pet with vaccinations or performing surgery, I am here to make sure your pet's overall wellness is the best it can be! I look forward to meeting you and your four-legged family members soon!
Dr. Laurie Meythaler-Mullins

Greetings! I'm Laurie Meythaler-Mullins. I have an interest in internal medicine, as well as pain management. I am a certified veterinary acupuncturist and have helped many cats and dogs manage osteoarthritis, back disease and other painful conditions.
I received my Bachelor of Science from Iowa State University, where I attended on a Track & Cross Country scholarship. I went on to receive a Master's in Fisheries and Aquatic Sciences from the University of Florida, then came back to ISU and received my Doctor of Veterinary Medicine in 2008. In 2010 I became a Certified Veterinary Acupuncturist through the International Veterinary Acupuncture Society.
I'm currently serving on the Executive Board of the Iowa Veterinary Medical Association as well as help lead the Greater Des Moines Veterinary Medical Association. I'm also a board member of the Iowa State University Veterinary Medicine Alumni Association and an active member of the American Veterinary Medical Association.
Pictured with me- my dog Shelby, a Rat Terrier who has never met a treat she didn't like, and my cat Allie, a very gentle soul. All together I have two dogs, two cats, a rabbit and a fish.
My husband and I are both Des Moines natives and we are very happy to have made our home here. We have a daughter and two sons. We are very active in our church, and enjoy bike rides, camping, and taking advantage everything Des Moines has to offer. I also still enjoy going out for a run when I'm not chasing around my three kids!
My favorite part of my job is getting to know you and your pets- the stories you share with us truly are amazing. I look forward to meeting you soon.
Dr. Kate Napawan

Hello! I am Kate Napawan. I am so excited to be a part of the SDMVC team! I love veterinary medicine because of my love for animals and the challenge and excitement each day brings. Whether it's a routine vaccine appointment, a procedure, or an ill patient exam, no appointment or patient is the same and I enjoy it all. I love building relationships with my clients and my patients and look forward to getting to know you!
Before SDMVC I worked at a 24-hr animal hospital in the suburbs of Indianapolis for 3 years. However, I grew up in the Quad Cities of Iowa, so I am happy to be back! I received my Bachelors of Science from the University of Illinois at Chicago and came back to Iowa for my Doctor of Veterinary Medicine, graduating with the 2014 class of Iowa State University.
Outside of work I enjoy being active outdoors with my husband and four dogs Tobey, Pip, Lyla, and Wicket. We very much look forward to getting to know what Des Moines has to offer, as long as we are not jet setting to a different city since I love to travel.
Angie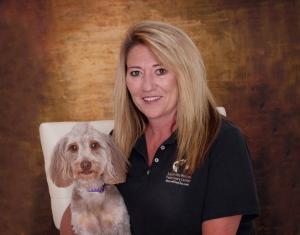 Hi, my name is Angie and pictured with me is my dog, Boozer. I have been in the veterinary field for over 15 years. I joined SDMVC in the spring of 2015 as a Veterinary Technician and love that no day is ever the same. Over the years, I have learned that keeping a pet healthy is just as important as keeping them happy.
Outside of work my husband, Tony and I love spending time with our family and also enjoying going on vacations.
Bradey

Hello, my name is Bradey. I started in July working in Pet Care for the Boarding pets, as well as an assistant to the Veterinarians. I have two pets at home, an English bull dog named Frankie, who just turned 3, and a gray cat, Nelson, whose namesake is Jordy Nelson from the Green Bay Packers. Both joined our family a couple years ago. My favorite thing about my job is getting to cuddle with and love on all the puppies and kitties. Also, taking good care of and spending time playing with each pet on the weekends. In my spare time, I enjoy hanging out with my friends and family, attending concerts, and traveling. I love experiencing all the things this crazy world has to offer.
Caralynn

Hello, my name is Caralynn and I am the Doggy Daycare & Pet Care Coordinator here at SDMVC. I joined the team in July of 2017 and I'm so happy to be here. I really enjoy working directly with the daycare and boarding pets and getting to know your pets as I would my own.
My fiance, Cody and I have two very cuddly cats named Leo and Shiva, and a very happy dog named Leeroy (pictured left). On my right is my childhood dog named Lou Dog.
In my free time, I enjoy photography and spending time in nature. Leeroy and Lou Dog love to hike and go camping. I look forward to meeting you and your pets!
Cari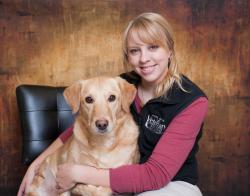 Hello! My name is Cari and I am the Practice Manager at SDMVC. Pictured with me is my rescue dog, Walter. He only has three legs, but that doesn't stop him from racing around the yard at full speed! I also have two cats named Tri-Pod and Mr. Nubbins, and a German Shepherd mix named Ryker.
I received by bachelor's degree from Iowa State University in 2007 and have been working in the animal field ever since. I started with SDMVC in the summer of 2010 and have gotten to experience just about every job here over the past several years. I love getting to bond with patients on an individual level and getting to see them grow up. I look forward to getting to know you and your pets!
Chelsey

Hello! My name is Chelsey and I have worked in the animal field since I was 18. I initally started on the grooming side of things, but moved into the medical side when I worked at a veterinary hospital in Los Angeles. I discovered I really liked the medical side and worked for 2 years in L.A. before moving back to Des Moines to be closer to family. I joined SDMVC in the summer of 2015 and have sincerely enjoyed it. I love getting to build relationships with not only the clients but also with the pets.
I now have two furbabies of my own, an English Bulldog named Frankie (pictured) and a cat named Nelson. Aside from animals, I love to dance. I am a dance coach at the Indianola Dance Academy where I get to pursue this passion.
I am so honored to get to spend my days working and playing with your pets. Hope to see you soon!
Christopher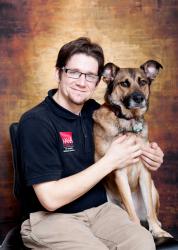 Hello, my name is Christopher. My wife, Amanda and I have a German Shepherd/Mix named Theodore (after Theodore Roosevelt). I am currently attending veterinary school at Iowa State University. I have enjoyed my opportunity to work with the doctors, as well as with the rest of the team, while finishing school. I particularly enjoy seeing not only the medical aspects of daily veterinary practice, but also watching and overseeing the dogs in daycare, and observing their unique personalities and sometimes funny behaviors.
Grace

Julie

Hi, my name is Julie and I started with SDMVC in October of 2015. I have been a client of the clinic since 2003 when I adopted two brothers, Addison and Waveland from a litter of kittens. I continued to add to my household over the years. In addition to my two cats I also have a Chihuahua named Ernie (pictured). My favorite part of working at SDMVC is interacting with all the people and their pets. Knowing the great care my pets have always received has made it a pleasure to be able to help provide the same great care to others and their pets.
In my free time I love to watch sports, including my favorite team, the Chicago Cubs.
Kassie

My name is Kassie. Pictured with me is my Husky, Diamond and my kitty, Corona. I started at SDMVC in January 2017. In August of 2017 I went to the university of Iowa for a couple months then came back to work at SDMVC in February 2018. I started out working in doggy daycare and have since started to learn more about the technician's jobs. Now, I'm a vet tech! I love learning new things here and the staff is more than willing to help answer any of my questions. We are one big family and I love it! When I'm not at work, I like to hang out with friends and family. We have many family gatherings and things like that. I love my family and friends and it's really nice to have a work family as well.
Kathy

Hello, my name is Kathy! I have been part of the health care team at South Des Moines Veterinary Center for more than 29 years. My main priority is you the human. I love helping you with your pets.
I have two wild and crazy little Beagles, Poppy and Iris. Poppy is a ham, she loves coming here doggy daycare and playing with her friends. Iris is the happiest when she is cuddling our grandkids. One thing is for sure; life is not boring with two Beagles.
Lex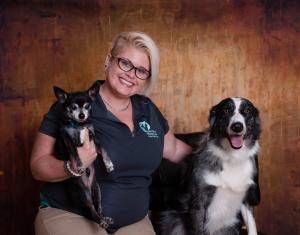 Hello, my name is Lex! I have been part of the SDMVC team since 2002. My husband, Joe and I have eight cats, four dogs, and a giant pot belly pig, Kevin Bacon. Did I mention I live on a farm? Sure feels like it! We also have 2 little girls, Aubrey and Eleanor that keep us very busy. There is never a dull moment!
You can find me in all areas of the clinic, I strive to work very hard to keep you and your pets healthy and happy while visiting us!
Veronica

Zach