Convenient Onsite Veterinary Pharmacy & Pet Supplies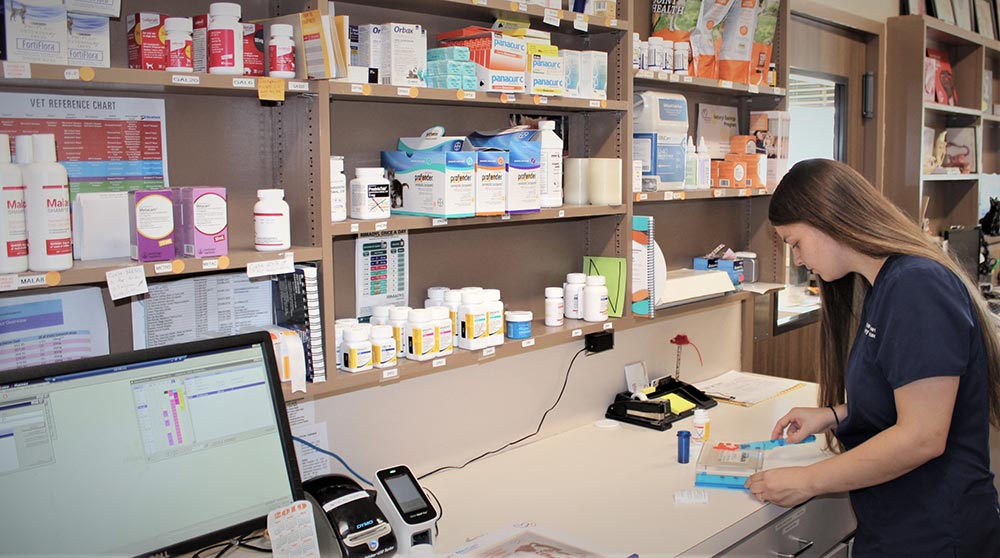 South Des Moines Veterinary Center provides comprehensive veterinary care and excellent customer service for you and your pet. We have a complete onsite pet pharmacy for your convenience and for your pet's safety. You can be assured that you are receiving pet medications you can trust, prescribed specifically for your pet.
Most pet medications can be filled the same day. Our veterinary team will carefully review all pet prescriptions with you, answer your questions, and can offer advice on how to administer them to your pet.
Pet Products
We offer various prescription pet diets targeted for the specific needs of your pet. We also have a variety of effective pet health care products, including shampoo, dental care products, and toys.
Prescription and specialty diets — Purina Veterinary Diets®, Royal Canin®, Hill's® Science® Diets, and Iams®
Flea products — Frontline® Plus, Advantage Multi®, NexGard®, SerestoTM bands
Heartworm products — Heartgard Plus® and Advantage Multi®
Wellness, dental, and grooming products — Epi-Otic® advanced ear cleanser, Purina Dental ChewzTM, Biotene® Oral Care Kits, Plum Silky® Shampoo, and many more!
All of our products come with a 100% satisfaction guarantee. We will refund your money on any non-prescription product if you are not completely satisfied. Shop with confidence!
Veterinary Pharmacy Hours
Our in-house pet pharmacy is open during normal business hours. If you need a refill, we can usually provide same-day service. Please contact us. We are available to assist you with all of your veterinary pharmacy needs.